How it works
The WebINK WordPress Plug-in connects to your WebINK account, and makes all of your WebINK fonts available for use in WordPress.
Fonts can be selected using the Visual editor in WordPress or applied to CSS selectors. The plug-in does the coding and WebINK service connection for you.
Setting-up the WebINK plug-in
Installing
Download the WebINK plug-in .ZIP file.
Login to your WordPress site.
From the Plugins menu, click Add New.
At the top of the page, click Upload.
Click Choose File.
Navigate to where you saved the WebINK plug-in .ZIP file and click Open.
Click Install Now. The plug-in is automatically uploaded.
Requirements
A hosted WordPress site using WordPress 3.0 or higher (Wordpress.com sites not currently supported)
WebINK account. If you don't have an account yet, create one FREE here and add some fonts to a project.
Connecting to WebINK
The WebINK plug-in connects to your WebINK account.
To connect, in WordPress, click WebINK from the menu on the left.
Under Account Connection, enter your email address and the password registered with WebINK. Click Save to enable the connection.

Enabling fonts in WordPress
Fonts are enabled by WebINK project.
Get started by creating a project on webink.com and adding some fonts.
In WordPress, open the WebINK plug-in and click Refresh Project List. This updates the to update your available WebINK projects.
In the project list, click Enable Project Fonts for the projects that you want to use with WordPress.
To display project fonts in the WordPress Visual editor, click in the Enable in Font Menu column.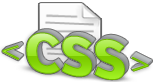 Applying fonts by CSS Selector, Class or ID
Fonts can be applied to your site using CSS selectors.
In the project font list, locate the font and enter the selector name (for example h1, h2, p, etc.) into the Selector, Class or ID column.
Enter the selector, class or ID name, for example "h1,h2" or "em, i" with multiple items separated by commas. You can designate multiple font weights per selector. For example "p, em" and "p, i" to have those font weights automatically applied when emphasis or italics are needed within a paragraph.
Further Options

Excluding fonts in a project from WordPress
If you have fonts in a project that you don't want to include in the WordPress site, they can be excluded. From the font list, click Exclude Font From Site for the fonts to exclude. This removes the font from the @import call for fonts, and can be useful for speeding up font calls for projects that include a large number of fonts.

Adding new fonts to your site
From time to time you might want to add new fonts to your site.
From WebINK.com, add new fonts to any WebINK project
In WordPress, click the WebINK plug-in
Click the Refresh Project List link
Periodically, the WebINK plug-in will check to see if you have added new fonts to a WebINK project. If you have, a notification will automatically appear on the WebINK plug-in page prompting you to click Refresh Project List.
Frequently Asked Questions
Q: Can the plug-in be installed and used with Wordpress.com sites?

A: At this time, no. The plug-in is only for use with sites that allow you to install and remove plug-ins. Self-hosted or ISP hosted WordPress installations only. We may add support for WordPress.com sites in the future.

Q: What markup does the Plug-in insert into the post when fonts are applied using the Visual editor?

A: In the WordPress Visual editor, when you apply a WebINK font, a

tag is inserted that calls the selected font.

Q: Does the WebINK Plug-in work with projects in Development Mode?

A: Yes, the plug-in does work with projects that are in Development Mode. Note that projects in Development Mode are limited to 10 unique visitors per day, so you'll need to switch to Live Mode if you intend on using WebINK fonts beyond testing purposes.